Bangladesh
Bangladesh Climate Change Resilience Fund (BCCRF)
Bangladesh is one of the most vulnerable countries in the world facing the potential impacts of climate change. To address this challenge, Bangladesh launched its first Climate Change Strategy and Action Plan (BCCSAP) in 2009 to build a medium-term to long-term program for enhancing resilience to climate shocks and facilitating low carbon and sustainable growth.
Coastal Embankment Improvement Project Phase-I
Bangladesh faces considerable challenges posed by its low and flat topography and its vulnerability to floods, torrential rains, erosion, sever cyclonic storms and tidal surges especially in the coastal zones. The coastal zone spans over 580 km and is prone to multiple threats. Sixty-two percent of the coastal land has an elevation below 3 meters and eighty-three percent up to 5 meters above mean sea level.
Community Climate Change Project (CCCP)
The 'Community Climate Change Project' (CCCP) provides grant funding to nongovernmental organizations (NGO) on a competitive basis to implement community-driven interventions that build resilience to climate change impacts. The CCCP is fully funded from the Bangladesh Climate Change Resilience Fund (BCCRF).

India
Bihar Kosi Flood Recovery Project
On August 18, 2008, the Kosi river burst through its eastern embankment 11 km upstream of the Kosi Barrage in Nepal, 8 km north of the Indian border. This created major flooding in Nepal and Bihar with about 3.3 million people affected in Bihar alone. The Kosi floods were subsequently declared a national calamity by the Government of India.
Himachal Pradesh Development Policy Loan
In September 2012, the World Bank approved a US $100 million Development Policy Loan (DPL) for the state of Himachal Pradesh (HP), India to support its transformation to green development. The second tranche of this programmatic series is now in preparation. That preparation included the South-South Exchange Program, designed so that participants could learn from successful experiences in the "Global South," in this case, Mexico.
National Cyclone Risk Mitigation Project (I)
India is highly vulnerable to natural hazards, particularly cyclones, floods, earthquakes, landslides, etc. Approximately 5,700 km of the total 7,500 km of coastline is exposed to severe cyclones, and an estimated 40% of the total population lives within 100 km of the coast.
Tamil Nadu and Puducherry Coastal Disaster Risk Reduction Project
In the aftermath of the Indian Ocean Tsunami of December 26, 2004, the World Bank supported the project "India - Emergency Tsunami Reconstruction Project (ETRP)" for Tamil Nadu and the UT of Puducherry. The objective of the ETRP was to revive livelihoods and promote recovery in Tsunami affected areas.
Uttarakhand Disaster Recovery Project
In the northern state of Uttarakhand in India, the annual monsoon arrived two weeks earlier than expected in June 2013. Cloud bursts and heavy rainfall – measuring 440% higher than average – hit several parts of the higher reaches of the Himalayan Mountain Range.
Nepal
Building Resilience to Climate-Related Hazards Project (BRCH)
Nepal is prone to a range of hydro-meteorological hazards such as floods and droughts, the frequency and intensity of which is expected to increase with climate change. The poorer sections of the country, women and rural populations are typically the worst affected and have the least capacity to deal with such risks. A well-functioning hydrometeorological network, forecasting and early warning system is crucial for strengthening resilience to such risks.
Open Cities Kathmandu: Harnessing Citizen Knowledge and the Power of
Open Data for Resilience
Open Cities Kathmandu is a project in Nepal supported by the Global Facility for Disaster Reduction and Recovery (GFDRR) and the World Bank. It aims at supporting evidence-based, innovative solutions to disaster and urban issues by creating data that is open and accessible to the public. Open data and systems promote transparency and accountability. In addition, open systems enable the participation of a wide range of actors in the challenge of building resilience in urbanization processes. It can do so by empowering both decision-makers and everyday citizens with better information and planning tools.

Pakistan
Balochistan Disaster Management Project
The Province of Balochistan has experienced several significant natural disasters over the past ten years. Most recently, the 2010, 2011 and 2012 floods have had a major impact, with damages and losses of US $620 million, or 6 percent of provincial GDP. Following the enactment in April 2010 of the 18th Constitutional Amendment and the resulting devolution of a number of federal functions to the provincial governments, the provinces have been given disaster management responsibilities within the overall national framework.

BLOGS
MULTIMEDIA
Video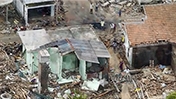 Video